Knowledge Building Webinar Series
An exciting line-up featuring the groundbreaking work of the scholars and activists involved in this research initiative!​
The goal of this public webinar series is to open new digital spaces for building and sharing knowledge on family relations from within Muslim tradition based on ethics of justice, equality, and care.

The series will feature the scholars and activists involved in the Musawah Knowledge Building Research Initiative to:
share, discuss, and consolidate the new knowledge produced under the research initiative with wider and more diverse audiences;

create spaces for interdisciplinary discussions around questions of gender and family relations in Muslim tradition;

facilitate conversations between Muslim scholars and activists; and

reinsert women's voices and concerns in the production of religious knowledge.
These webinars are open to the public and Musawah's diverse audiences: scholars, activists, policy makers, students, and individuals working and/or living in Muslim contexts who are interested in the topics covered by the research initiative and in the opportunity to interact with the speakers and discussants. 
Upcoming and Recent Webinars
How can we build more just, equal, and spiritually nourishing Muslim marriages and intimate relationships? How does the Qur'an guide us in shaping this relationship that helps us realize our better selves?
In this webinar, Dr. amina wadud and Dr. Sa'diyya Shaikh will reflect on issues of gender justice and family relations through spiritual lenses. Building on their scholarship and lived experiences, they will explore the intersections of spiritual growth, Qur'anic ethics, and egalitarian and mutually empowering family relations.
Read More »
What are the different approaches to Islamic ethics and how can we build upon them to develop an ethical framework that foregrounds gender justice?
In this webinar, Dr. Mariam Al-Attar and Dr. Fatima Seedat will explore different understandings of 'ethics' and shed light on the challenges of ethics as a field of study within Islamic intellectual tradition. They will discuss the possible contours of an Islamic ethical framework for reform and its relevance for Muslim gender justice contemporary discourses.
Read More »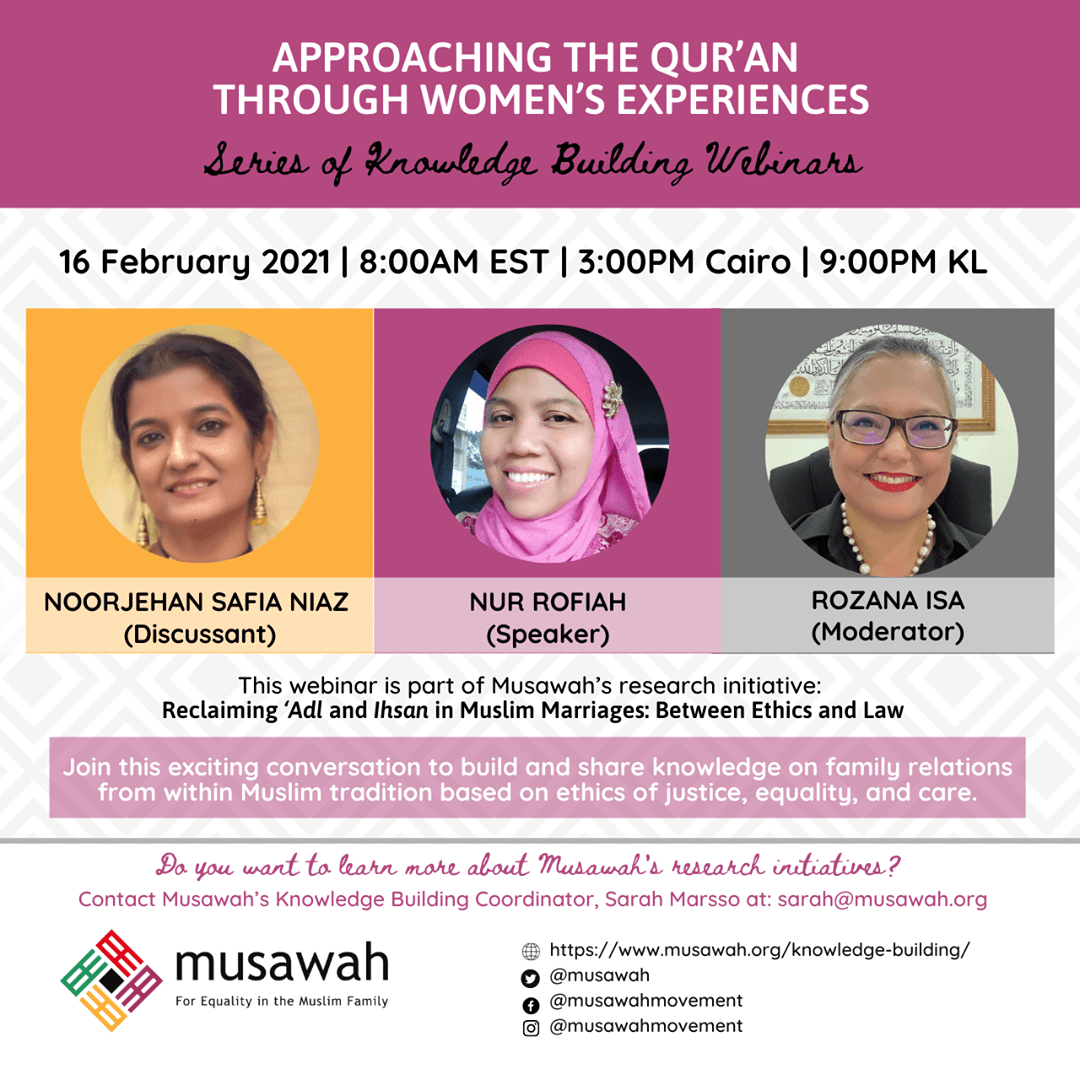 How do we understand the Qur'an's ethical framework for gender relations through empirical lenses? In what ways have women's experiences been silenced in the conventional readings of the sacred text, and how can we reclaim these voices in contemporary engagements with the Qur'an?
In this webinar, Dr. Nur Rofiah will address these questions and introduce her methodology of reading the Qur'an through women's experiences with a goal of achieving substantive justice for women. She will shed light on Indonesian Muslim women scholars' innovative interpretive approaches to the Qur'an and share with us the lessons learnt from the successful marrying of the production of Islamic feminist knowledge and gender-sensitive activism in Indonesia.
Read More »
Learn more about Musawah's new multi-year research initiative,
'Reclaiming 'Adl and Ihsan in Muslim Marriages:
Between Ethics and Law'
The teams of authors are working with Musawah's Knowledge Building Working Group on developing the background papers—on ethics, Qur'anic hermeneutics, Sunnah (Prophetic practice), Islamic jurisprudence (fiqh), and contemporary family laws and practices—through ongoing meetings and participatory research.
In 2019, Musawah started a new multi-year research initiative titled 'Reclaiming 'Adl and Ihsan in Muslim Marriages: Between Ethics and Law.' The new initiative builds on the findings of Musawah's previous research initiative on qiwamah and wilayah (male authority and guardianship in the family), which showed that hierarchical gender relations and unequal rights have detrimental impacts on the well-being of Muslim families and their individual members. The aim of this new research inquiry is to help build and promote an understanding of marriage as a partnership of equals through studies engaging with Islamic textual tradition and history, contemporary Muslim family laws, human rights standards, and, most of all, Muslims' lived realities in diverse contexts.
The research initiative has three interrelated components:
Textual, historical, socio-legal studies to explore and unearth frameworks for egalitarian ethics and jurisprudence for Muslim marriages.
Empirical research to investigate how selected Muslims in different contexts understand and pursue egalitarian gender relations in their marriages.
Opening spaces for creating and engaging in new discourse that promotes equality, justice, and care in Muslim marriages.
Why do we need to build new ethics and legal jurisprudence of Muslim marriages, and how is this relevant to your work in your different contexts?
Our contemporary laws and practices related to marriage (and thus family relations) are not in line with contemporary ethics of justice. These laws and practices are informed by concepts inherited from classical jurisprudence (fiqh) and ethics of another time and context where justice did not include the notion of gender equality. This is the conclusion reached by our previous project on qiwamah, the new project aims to provide alternatives, what can we build? Equally important is that these laws and the religious arguments that justify them contravene with the primary ethical principles and teachings of the Qur'an, and conceal other possible egalitarian Islamic visions of egalitarian gender relations within the family.
There are ways and reasons for approaching the subject of marriage and gender relations within an Islamic tradition and from an egalitarian perspective. The ethical worldview and message in the Qur'an affirm the equal worth of all humans, and calls for social relations (including gender relations) that reflect core Qur'anic ethical principles such as justice ('adl), beauty and care (ihsan), doing what is commonly known to be good (ma'ruf). The enactment of these ethical values is the religious duty of every believer. The question that we aim to explore in the new project is how we can systematically map out that Qur'anic ethical worldview its central values and enact them in jurisprudence?
We live in a world in which there is a plurality of 'ethical frameworks' 'norms' or 'laws' through which contemporary social relations—in this case Muslim gender relations and rights in the family domain—are regulated, negotiated, and transformed. That is why legal pluralism is important, there is not only one norm, there are Qur'anic norms, social norms, human rights norms, and this new project is about how can we bring these different ethical frameworks in harmony.
Past workshops and meetings
In November 2018, Musawah organised a Knowledge Building workshop in partnership with the Faculty of Theology at the University of Helsinki, the Institute of Islamic Studies at the University of Toronto, and the Centre of Islamic and Middle Eastern Law at the School of Oriental and African Studies, University of London. The workshop was preceded by a public seminar at the University of Helsinki.
In June 2019, Musawah organised a two-day conceptual workshop in Kuala Lumpur to bring together Musawah scholars and activists to collaboratively discuss topics related to marriage, Qur'anic ethics and Muslim legal tradition (usul al fiqh, ahadith and Sunnah) as they relate to laws, policies and lived experiences in Muslim contexts.
Stay tuned as we add more updates in the coming months! Do you want to learn more about Musawah's Knowledge Building Research Initiative? Contact Musawah's Knowledge Building Coordinator at sarah [at] www.musawah.org