Credit: IA Media. The Musawah team, moderators, and co-editors and some of the writers of Justice and Beauty in Muslim Marriage: Towards Egalitarian Ethics and Laws.
After nearly 8 years since the launch of Men in Charge? Rethinking Authority in Muslim Legal Tradition, Musawah made its return to SOAS, the University of London, for a public seminar and launch of its latest publication, Justice and Beauty in Muslim Marriage: Towards Egalitarian Ethics and Laws.
The event, held on 25 February 2023, featured co-editors and authors of the book as well as prolific moderators who are scholars and activists in their own right. The audience, coming from different parts of the world, were engaging and keen to explore the subject of grounding relationships in values emphasized in the Qur'an.
Understandably, some of you may have missed it due to location and time. But don't worry!
You can also watch the recording of the seminar on our Youtube page here.
Here are a few things we learned together at the seminar:
1) We got to find out more on how women and their lived experiences play a vital role in knowledge production.
Credit: IA Media. Speakers and moderator of the panel, 'Towards Egalitarian Laws and Ethics'.
Mainstream Islamic knowledge has been predominantly produced by men of a certain class, privilege, and from established religious institutions. During the first panel, 'Towards Egalitarian Laws and Ethics' moderated by Dr Sofia Rehman, the speakers Dr Ziba Mir-Hosseini, Dr Mulki Al-Sharmani, Jara Rumminger and Sarah Marsso talked about the importance of bridging the gap between engaging critically with existing knowledge in Islamic tradition and new knowledge produced by women and their lived realities.
The speakers talked at length about Musawah's approach to knowledge building, which is based on feminist principles. One aspect includes raising women's voices as well as their perspectives and experiences, which are usually shut down within the tradition.
We learned how knowledge production doesn't necessarily have to begin from Islamic texts. One can examine the contexts of what the women are going through – that in itself could be a springboard for research.
Dr Mulki said:
"We believe that knowledge can inform activism and activism informs knowledge. And because knowledge is important, we strive for producing rigorous knowledge, research-based knowledge."
2) We examined how Islamic legal theory and ethics could guide us towards justice and beauty in Muslim societies.
Credit: IA Media. Dr Nevin Reda, one of the speakers on the panel 'Muslim Family Laws and Legal Theory (Uṣūl al-Fiqh)'.
The second panel, 'Muslim Family Laws and Legal Theory (Uṣūl al-Fiqh)', moderated by Professor Shaheen Sardar Ali, provided the foundation to discuss how ethical legal theory (uṣūl al-fiqh) and laws can lead us to having egalitarian relationships and communities.
Dr Nevin Reda asked the question of how one can realize justice and higher ethical values in Muslim societies and Muslim marriages, outlining what she sees as problems in the methodologies of usul al-fiqh, how we can fix them, and what that would look like in the case of marriage.

She said, "I contend that in order to have justice and equality in Muslim societies, we need to have justice in Muslim marriage, because marriage is ontologically the most important of human relationships, and the key institution where values are developed and instilled, where children are raised, and where partners grow and learn from each other. (…) Justice needs to start at home."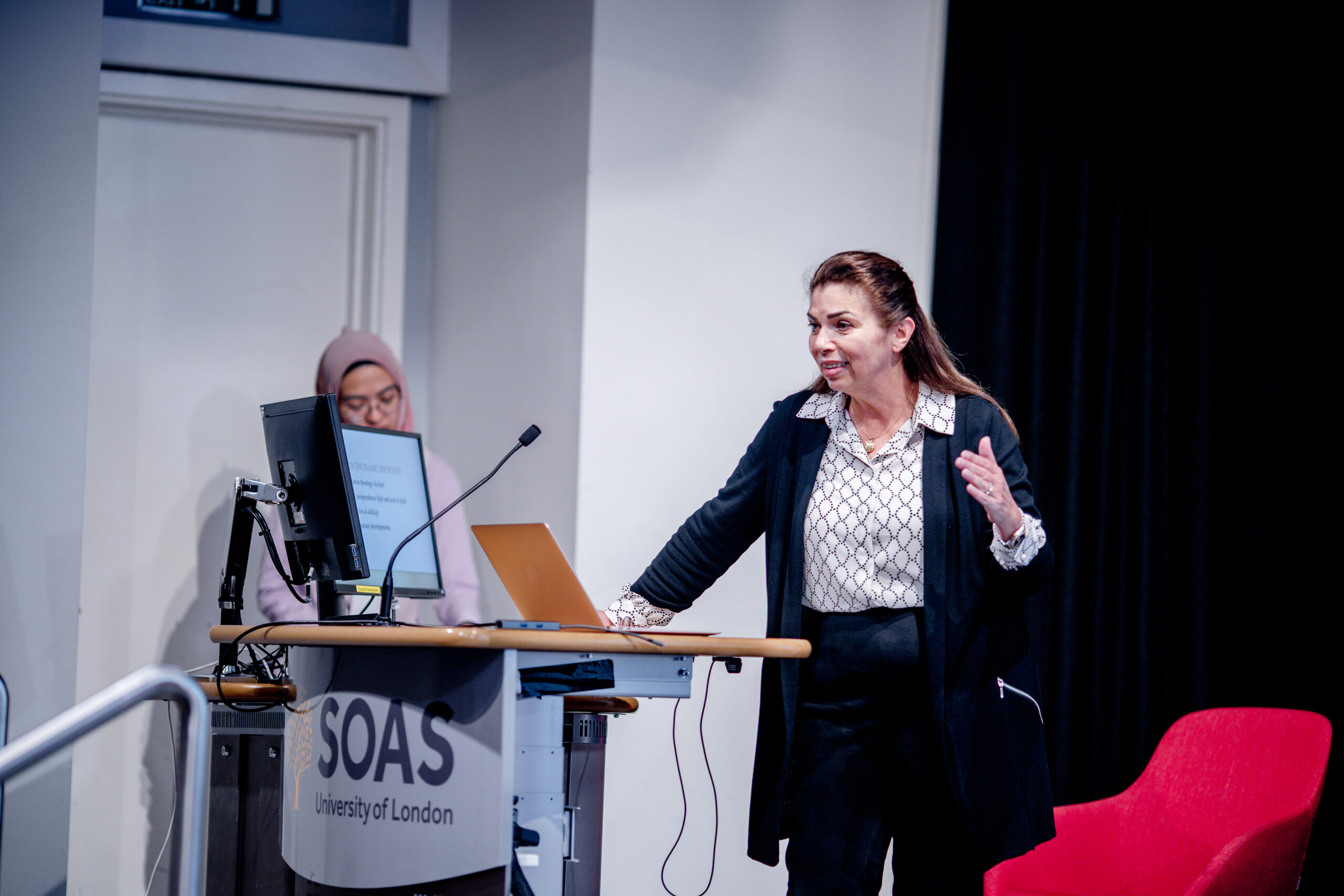 Credit: IA Media. Dr Mariam Al-Attar during the panel 'Ethics, the Qur'an and Beyond'.
During the panel, 'Ethics, the Qur'an and Beyond', Dr Mariam Al-Attar shared her 'constructivist approach' to ethics and gender. She argued for a set of rational criteria built from within the Muslim tradition for evaluating moral judgements.
Dr Mariam concluded that fiqh rules that discriminate against women fail to satisfy these criteria, and therefore should not be considered part of the divinely ordained morality, or Shari'a, which is first and foremost an ethical paradigm.
3) We discussed the importance of women's movements in pushing for change on the ground.
Credit: IA Media. Professor Lynn Welchman during her panel, 'Muslim Family Laws and Legal Theory (Uṣūl al-Fiqh)'.
Understanding what is going on beyond the societiesin which we live allows us to imagine possibilities of a better world together. In the 'Muslim Family Laws and Legal Theory (Uṣūl al-Fiqh)' panel, Professor Lynn Welchman gave us a wider look into what is happening in Muslim countries around the world.
Most inspiring was how she emphasized the importance of women's groups in developing and maintaining campaigns in order to seize opportunities for political action when they arise. She said:
"No matter how restrictive or open the democratic space was in each of the countries examined, women's movements felt the problem on the ground and translated it to advocacy campaigns for reform. Excitingly, these did not only influence the law itself but could have ripple effects."
Of course, she added that legal reform isn't enough – energy and resources are needed to ensure that these reforms change what's happening on the ground.
4) We took a look back at the Prophet's history – both the sirah and Hadith.
Credit: IA Media. Moderator and speakers of the panel 'Lessons from the Prophet'.
The third panel of the day, 'Lessons from the Prophet' moderated by Baroness Shaista Gohir, opened up discussions on how prophetic teachings can be understood to inform contemporary ideas around justice and equality in Muslim families.
Dr Yasmin Amin shared a clear picture of the Prophet Muhammad (pbuh) through stories from his life, which addressed topics such as the foundations of marriage, dower and maintenance, conflict resolution, and bedroom etiquette. Her central point is that the example of the Prophet in matters related to marital relationships contrasts greatly with fiqh rulings issued by classical jurists hundreds of years ago.
She said:
The Prophet advised his community on how to deal with the stormy parts of the marriage. Marriage should be celebrated. (…) He used to wash his own clothes, mend his own shoes, he used to milk the goats and wash the dishes, believe it or not.
Husband-wife team Dr Sara Ababneh and Dr Shadaab Rahemtulla used the Prophet's marriage to his first wife, Khadija, to question hegemonic narratives on 'ideal' Muslim marriages and present an alternative model for marital relationships that we can emulate today. Together, we discussed what is 'Islamic', where our conceptions of 'ideal' marriages come from, how gender roles have been and are manipulated in multiple ways in various marriage models, and what elements make a good marriage.
5) We discussed how to draw out ideas of justice and beauty from the Qur'an and Hadith.
Credit: IA Media. Speakers on the panel 'Ethics, the Qur'an and Beyond'.
During the final panel, 'Ethics, the Qur'an and Beyond' moderated by Faeeza Vaid, the speakers shared perspectives on Qur'anic interpretation. Dr Mulki Al-Sharmani talked the chapter she co-wrote with Dr Omaima Abou-Bakr and Dr Asma Lamrabet that uses a methodology of Qur'anic interpretation that is holistic, thematic, ethically oriented, intra-textual, linguistic and historical. By centring the Qur'anic ethical worldview, Muslims can move beyond pre-modern interpretations and create a space in which relationships are grounded in justice and beauty. 
Following that, Amira Abou-Taleb shared how the ihsan paradigm in the Qur'an – a mandate of beauty and goodness – can guide our family relationships and, ultimately, the way we relate to each other and the world. She reinforced the idea that ihsan is commanded not just when times are good, but during the most difficult times.
(…) We can think about spreading beauty. Instead of only looking down and seeing all the ugliness and only focusing on fixing that – which is still necesary by the way – we can open the door for new kinds of conversations, [by elevating and aspiring]. Maybe, if we do that, years down the road, 'beauty' (ihsan) might come to mind when we think about Islam.



All in all, Justice and Beauty in Muslim Marriage: A Seminar was a groundbreaking event that opened up a space for engagement with Islamic knowledge production around relationships that centre Qur'anic values of justice, beauty, and equality. The fact that it was held at SOAS, University of London, where diverse groups of students, academics and the public could converge, allowed conversations with rich, new perspectives to flourish.

Credit: IA Media. A set of Justice and Beauty in Muslim Marriage: Towards Egalitarian Ethics and Laws books
This is not the end of our journey! The book launch for the Arabic version of Justice and Beauty in Muslim Marriage: Towards Egalitarian Ethics and Laws is coming soon at a new location. Stay tuned for updates by following us on social media and signing up for our newsletter here.
Find out more about the book and how to purchase here!
---
Hamizah Adzmi is Musawah's Knowledge Mobilization Programme Officer.
Reach out to her at [email protected].