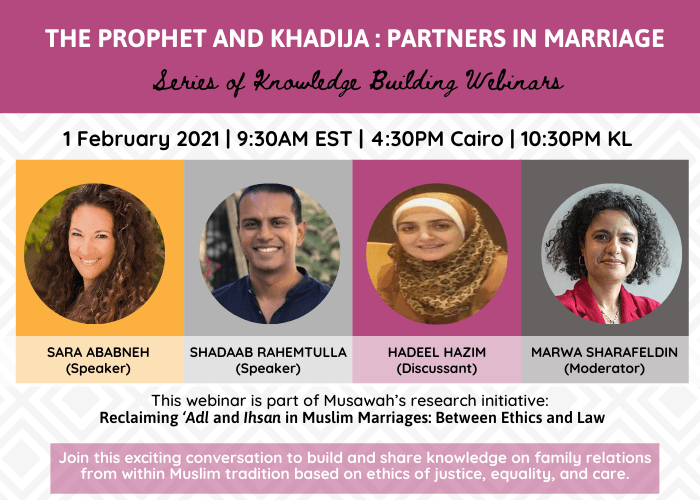 We are pleased to invite you to join us in this webinar titled "The Prophet and Khadija: Partners in Marriage", featuring wife-and-husband team Dr. Sara Ababneh (Centre for Strategic Studies, University of Jordan) and Dr. Shadaab Rahemtulla (University of Edinburgh), with the participation of discussant Ms. Hadeel Hazim (Kvinna till Kvinna Foundation) and moderated by Dr. Marwa Sharafeldin (Musawah).
What can we learn from the Prophet's marriage with Khadija? How is it different from the marriage model we find today in most Muslim family laws and practices? And how can we reclaim it in the present time as a model for feminist Muslim masculinities?
In this webinar, Dr. Ababneh and Dr. Rahemtulla will address these questions and examine the marriage of Prophet Muhammad and Khadija bint Khuwaylid (d. circa 620) to question hegemonic narratives on "ideal" Muslim marriages. They will shed light on how Khadija and Muhammad, as marital partners, had built a harmonious, non-patriarchal relationship based on mutual support, care and respect. Dr. Ababneh and Dr. Rahemtulla will reflect on the implications of their study on today's Muslim masculinities.
If you want to learn more about Musawah's Knowledge Building research initiative, please contact Musawah's Knowledge Building Coordinator Sarah Marsso at sarah [at] www.musawah.org.
Webinar Recording:

The Prophet and Khadija:
Partners in Marriage
Speaker bios:
Dr. Sara Ababneh is Assistant Professor at the University of Jordan's Center for Strategic Studies. She is the head of the Political and Social Studies Unit and CSS Internship program coordinator. Dr. Ababneh earned her DPhil in Politics and International Relations from the St. Antony's College, University of Oxford in 2010. She wrote her dissertation on female Islamists in Hamas in occupied Palestine and the Islamic Action Front in Jordan. Dr. Ababneh has conducted research on Mandate Palestine, gender and Islamism, Muslim family laws, and labor movements. Her research interests include class, gender and struggles for liberation and change. Dr. Ababneh was selected as the Carnegie Centennial Fellow at the Middle East Institute at the University of Columbia. Currently, she is working on a manuscript on the popular protest movement in Jordan.
Dr. Shadaab Rahemtulla is Lecturer in Islam and Christian-Muslim Relations at the School of Divinity, University of Edinburgh. A Canadian Muslim from Vancouver / Coast Salish Territories, Shadaab completed his doctorate in contemporary Islamic thought at the University of Oxford. He is the author of the book, Qur'an of the Oppressed: Liberation Theology and Gender Justice in Islam (2017). Shadaab's primary interest lies in how religion can be (re)interpreted as a liberating force to confront contexts of oppression, including patriarchy, poverty, and racism. His second book project – entitled Islam and Native American Suffering: Indigenising Islamic Liberation Theology (under contract with Oxford University Press) – seeks to reread the Qur'an in the light of Native American rights, occupation, and indigenous struggles against setter colonialism. Before joining the University of Edinburgh, Shadaab was an Assistant Professor at the University of Jordan in Amman, where he taught for six years.
Discussant:
Ms. Hadeel Hazim works with Kvinna till Kvinna Foundation as a senior program officer based in Baghdad, Iraq, since 2015. Ms. Hazim has been engaged on the field of women's human rights since 2004, and was the head of the Gender and family support department of Islamic Relief-Iraq for eight years. She was nominated by Islamic relief to be rewarded by Islamic bank in 2009. MS. Hazim is founder of Mariam association (2004) in Baghdad targeting widows and orphans. She participated in many training programs relating women's rights, gender, women's economic empowerment and peace building and participated in many events and conferences relating to women's rights issues inside and outside Iraq. Ms. Hazim works with the Kvinna till Kvinna team to raise Iraqi women's demands and needs internationally and on country level.
Moderator:
Dr. Marwa Sharafeldin is an Egyptian scholar activist. She has a PhD in Law from the University of Oxford and is the Senior Technical Advisor and MENA Region Expert in Musawah. Her work covers the intersection between Islamic law, international human rights law, and feminist activism. She has been published in a number of academic books and media platforms covering those topics. She co-founded and/or served on the Advisory Boards of several feminist organizations worldwide such as Musawah, the Global Fund for Women, the Young Arab Feminist Network, and the Network for Women's Rights Organisations in Egypt. She contributed to publications such as the United Nations' flagship report Progress of the World's Women 2019-2020 and the UN's Gender Justice & The Law in the Arab States Region. She believes in the power of art for social transformation, and is a story collector, performer, and writer.